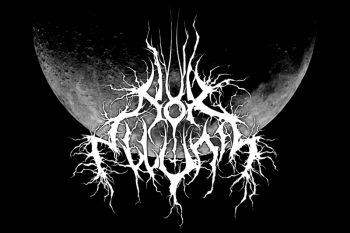 Informazioni
Gruppo: Nox Illunis
Anno: 2010
Etichetta: Depressive Illusions Records (MC Version) - WAR Production (CD Version)
Contatti: www.myspace.com/noxillunisband - www.myspace.com/depressiveillusions
Autore: Akh.
Tracklist
1. Echoes In The Abyss
2. Ira Sommersa
3. Asylum Of Dead Memories
4. The Last Rising Sun
5. Darkness Of The Soul
6. The Death-Fires Danced At Night
7. Evoking The Stars
DURATA: 48:17
Giungono all'esordio sulla lunga distanza i Nox Illunis dopo un demo (scaricabile gratuitamente presso la D.N.A. Collective: http://dnanetlabel.altervista.org/), uno split, ed aver ricevuto buone critiche (qui potrete ritrovarla: http://aristocraziawebzine.blogspot.com/2010/08/occulta-struttura-nox-illunis-cenere.html); insomma non sono dei novellini e mi attendevo molto dal loro "In Sideris Penumbra".

Il gruppo trevigiano forte di una buona personalita' non tradisce le aspettative e riesce a migliorare quegli aspetti che nei precedenti lavori potevano incrinare leggermente la proposta, ovvero una produzione piu' omogenea ed un miglior utilizzo della sezione della batteria, che è passata nelle mani di Master, che rende maggiormente dinamica ed articolata la sua prova.

Ci troviamo quindi di fronte un buonissimo album di Black Metal dalle fortissime venature melodiche, con notevoli espressioni astrali che manifestano personalita' ed intraprendenza; l'arma in piu' risulta proprio il non forzare le composizioni ma la sapiente combinazione della sua melodicita' abbinata ad un'alternanza di ritmiche ben distribuite nel valorizzare la proposta nel suo insieme.
Da queste premesse nascono quindi sette pezzi (cinque inediti, piu' due estratti dal loro demo di debutto) che a tratti possono ricordare certe atmosfere svedesi che uniscono una visceralita' puramente BM a certi riferimenti dei primissimi Dark Tranquillity e Naglfar come ci dimostrano "Darkness Of The Soul" e la seguente splendida "The Death-Fires Danced At Night", le ritmiche nelle parti piu' rallentate pur discostandosene mi riportano alla mente pure l'estasi visionaria dei migliori Summoning commutata in chiave piu' prettamente cosmica, insomma si parla di alta qualita' nonostante la giovane eta' del combo.
I brani si susseguono amalgamandosi perfettamente l'uno all'altro ricreando un'atmosfera quasi onirica, in cui la graffiante voce di Noxfero si staglia ruvida e selvaggia; anche l'utilizzo calibrato delle chitarre acustiche acuisce l'impressione che la band sappia bilanciare le due dimensioni per formare un insieme omogeneo e vibrante, quasi 50 minuti di penombra siderale.

"Echoes In The Abyss", "The Death-Fires Danced At Night" e la strumentale "Evoking The Stars" o la piu' ferale "Ira Sommersa" mostrano che i Nox Illunis sanno cio' che vogliono e sanno come ottenerlo, dimostrando ancora una volta come il talento esista anche dalle nostre parti, seppur si nasconda dietro realta' poco conosciute o mal supportate.
Una menzione di merito anche all'artwork davvero intenso ed evocativo.

Io consiglio vivamente di prestar un ascolto a questo "In Sideris Penumbra" chissa' magari potreste darmi ragione... io dei Nox Illunis sono completamente convinto!