Informazioni
Gruppo: The Primates
Anno: 2010
Etichetta: Autoprodotto
Contatti: www.myspace.com/wearetheprimates
Autore: Dope Fiend
Tracklist
1. Medieval Age
2. Today
3. The Full Control
4. The Day Of Yesterday
5. Alter Ego
DURATA: 15:03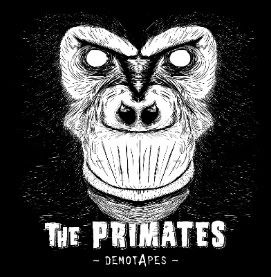 Quando si è ormai abituati e assuefatti a certi tipi di sonorità, dare giudizi o addirittura recensire qualcosa di diverso da ciò che ci si pompa nelle orecchie di solito non è così semplice. Tuttavia è sempre buona cosa imparare anche a variare i propri range di ascolti e questo è ciò che è avvenuto per il sottoscritto al fine della stesura di questo testo.

I The Primates sono un gruppo novarese formato nel 2007 e che si presenta ora sul mercato con l'Ep DemotApes. Fin dai primi momenti di ascolto vengono subito a galla quell'attitudine e quella sana e genuina voglia di suonare che indubbiamente scuotono i quattro ragazzi piemontesi. Ciò che ci viene proposto è un'interessante miscela che spazia dal classico punk rock (mi verrebbe da dire quasi in stile The Clash) al surf rock.
Non mancano sicuramente a questo gruppo l'energia e l'adrenalina: posso solo provare a immaginare il bordello indotto in sede live da pezzi quali "Medieval Age", "The Full Control" e "Alter Ego", forse gli episodi più fedeli e con i maggiori richiami alla vecchia scuola punk rock.
L'alchimia strumentale raggiunta dal gruppo è indubbia e salta maggiormente all'orecchio nei pezzi in cui vengono amalgamati più elementi e soluzioni diverse provenienti in gran parte da reminescenze rock e qui mi riferisco in particolare a brani come "Today" e "The Day Of Yesterday" che non peccano comunque certamente in fatto di sostanza.
Sebbene la durata del disco non vada oltre il quarto d'ora è già possibile gustarsi le buona capacità tecniche in possesso dei membri con il basso sempre presente e robusto e i riff trascinanti e divertenti accompagnati da un drumming non invasivo ma decisamente collaborativo. Ottima anche la prova vocale che, sicuramente in linea con il tipo di proposta, suona la carica per ottenere e comunicare il massimo dell'energia possibile.
Insomma, per farla breve questo Ep è sicuramente un buon inizio per questi ragazzi che hanno delle ottime carte da giocare e se proseguiranno con questa voglia e questa passione potranno sicuramente togliersi delle grosse soddisfazioni!