Informazioni
Gruppo: Dungeon
Anno: 2010
Etichetta: Autoprodotto
Contatti: www.myspace.com/dungeon1992
Autore: ticino1
Tracklist
1. Holocaust
2. Witches Pyramid
3. Thunderous Call
4. From The Bowels Of The Earth
5. Wellcome To Hell
6. Total Infernal Chaos
Bonus:
Burial, promo '91
7. Into My Subsconscious
Catacomb, rehearsal demo '91
8. Spontaneous Combustion
9. Foreseen Epitaph
10. Stare Of Apparent Death (Catalepsy)
DURATA: 43:25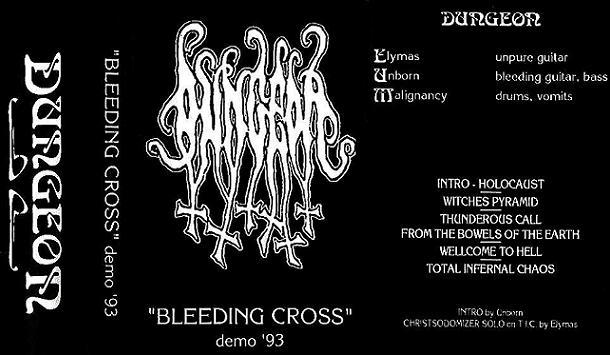 Agli inizi degli anni Novanta il thrash cadeva nel dimenticatoio, il death si trovava all'apice dell'evoluzione e il movimento black iniziava a far parlare di sé. Il genere era allora poco, pochissimo conosciuto dalla massa, al contrario di oggi. Quando si parlava di questa musica era normale citare i nomi più conosciuti come Venom, Bathory, Hellhammer, Sodom, Destruction e Mayhem. Gli "esperti" odierni cancellerebbero la maggior parte di questi dalla lista.
I Dungeon hanno seguito la strada tipica per le formazioni d'allora, accogliendo membri che, passando dal death, decisero di seguire i riti dell'oscurità e del male.

Avete la fortuna nel 2010 di tenere nelle mani il mitico demo intitolato "Bleedin' Cross" ingrassato con pezzi dei progetti Burial e Catacomb. Le piste provengono dal master originale dell'unico membro fondatore presente nel gruppo, Malignancy. La qualità è centomila volte più alta dei rip che trovereste in rete.
Se siete amici del vero sottosuolo avrete sensazioni al cardiopalmo aprendo il pacchettino contenente il cd. La copertina è, come già fu la versione in cassetta, fotocopiata in bianco e nero. La musica non la troverete su cassetta, ma su un cd bello da vedere, che mantiene il suo valore artigianale, grazie al titolo scritto a mano. Potrete così essere sicuri di tenere in mano una copia incisa e preparata solo per voi, personalmente.

Dopo avere posato il dischetto argentato nel lettore, sono soddisfatto di costatare che le promesse di Malignancy erano legittime. La qualità sonora è ottima. I pezzi sono vero black metal dell'epoca d'oro del genere. Le canzoni sono oscure, alimentate da rabbia e con influenze provenienti dalle profondità degli anni Ottanta. La coronazione del tutto è la cover dei Venom, "Welcome To Hell". Fu suonata in maniera ispirata dal fanatismo necessario per amare questa musica e sprigiona una grande potenza.

Parlavamo dell'evoluzione di molti gruppi black attraverso la cultura death. Il cd contiene anche quattro pezzi dalla storia dimenticata del metallo della morte italiano. Burial e Catacomb saranno forse termini conosciuti a una minoranza di ascoltatori della Penisola e dintorni.
Non voglio sviluppare il tema. Questi gruppi sono effetti collaterali e non rilevanti per la valutazione della demo. Dico solo che i pezzi sono di buona fattura e non vi faranno rimpiangere l'acquisto del disco.

Questa registrazione è d'obbligo per tutti quelli che s'interessano di metal italiano e comunque per tutti i fanatici di black metal. Grazie a questo disco avrete un pezzo di Dungeon e di storia metallica italiana in casa!

Ora non resta che attendere l'uscita del primo disco dei Dungeon che, credendo alle affermazioni di Malignancy, sarà un mostro di oscurità e totalmente dedicato alle profondità dell'Inferno da dove vennero i Venom.